We invite you to
CRAZY 2WHEEL INTEGRATION
We offer you the comprehensive organization of cycling trips and events
– the original and attractive option for company's incentive event.
Our events are full of:
positive energy and satisfaction coming from the physical activities,

change of perspective – be more efficient and creative!

integration of co-workers and their family members (in case of family events),

Unforgettable experience shared with team members – build up the motivation and trust in the team!

Contact with nature and green lifestyle promotion.

Discovering the magical and exotic parts of Poland – get to know the undiscovered city sections and dwell in the scenic sideways!

sports emotions and fun!
We provide you with: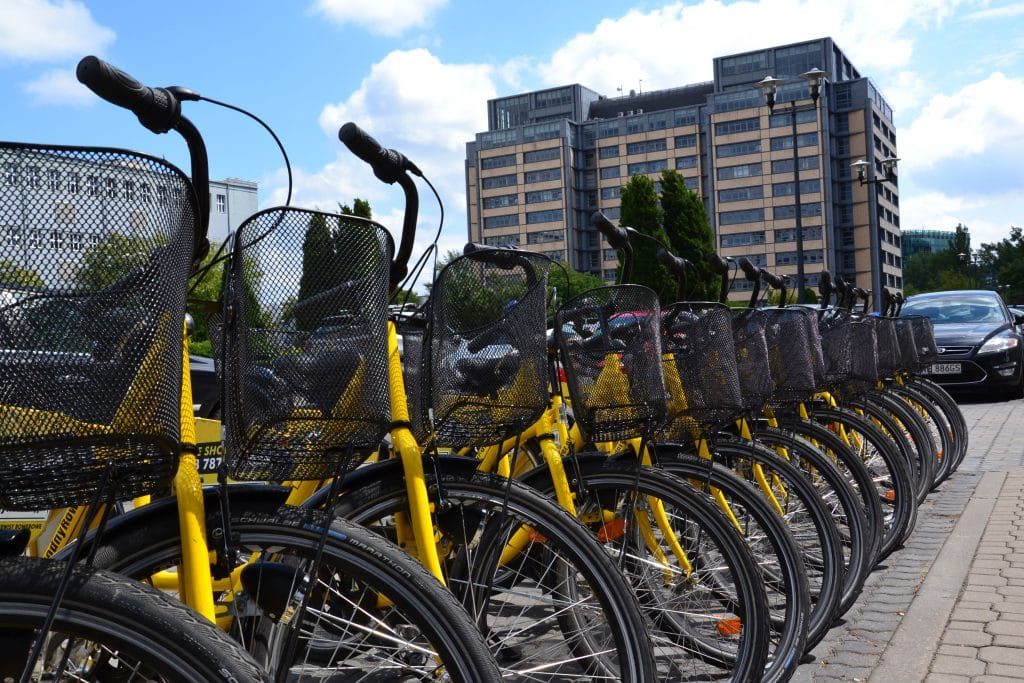 safe and secure routes in Warsaw and the surroundings or in any other parts of Poland

additional attractions during the events: sightseeing, kayaking, degustations, group games in cities and in nature

professional guide service

professional group leaders assistance

bike rental and their transport

tasteful refreshments at the end of the event

accommodation in unique and comfortable hotels or guest houses

accident insurance and civil liability insurance for all participants of the event

transport
We offer a wide range of our own, original tour programs, but we are also open to your suggestions and ideas – we always do our best to fulfil the wishes of our clients. We are able to organize your bicycle trip in any region of Poland.
We are convinced that our offer will bring a new quality and freshness to your company's integration events.
Please contact us – we will send you an offer tailored to your needs.
The example of your bicycle trips:
Two faces of Warsaw from the perspective of the Vistula river (duration: approx. 3 hours)
We invite you for a bicycle trip around the green parts of Warsaw. The proposed route is an unforgettable journey along the Vistula – the river that crosses the capital city, but still remains a wild river. From its banks, you will admire the most important and well known places in Warsaw. During our route we will use bicycle paths going through the green areas of the capital city – as such the way will be both safe and pleasant.
Our trip will be guided by a professional Warsaw guide – you will have a unique chance to get to know the city's secrets and curious facts about Vistula river. We will discover the historically important places such as The Royal Baths, the Old and the New Town, but we will see the examples of modern architecture as well – ZOO and the National Stadium. This event guarantees you will get to know all Warsaw must-see places but from a totally different and original perspective!
Route difficulty: easy
Distance: around 18 km
Travel time: around 2-3 hours (with breaks)
Road surface: gravel and asphalt paths,
Kampinos Forest – the green treasury of Masovian nature (duration: approx. 5-6 hours including a meal)
We offer you a bike trip through the most beautiful areas of the Kampinos Forest. The trail winds through dunes and swamps characteristic of this area, which gives us a unique possibility to admire variety of forest landscapes. The route is also attractive due to numerous nature reserves, educational and information boards and tourist sheds. The trip will be an extra asset to a family picnic organized for company's employees. To make the trip as comfortable and safe as possible the proposed route leads entirely along tourist routes in the heart of the National Park.
There is a possibility to organize a bonfire with sausages or barbecue at the end of the trip, in the Julinek Fun Park. The place is located in a short distance from Warsaw and can accommodate a lot of people so regardless the number of participants we can guarantee comfortable stay and pleasant time. 
Route difficulty: easy
Distance approx. 20 km
Travel time: approx. 4 hours (with breaks)
Road surface: forest and field paths, gravel and asphalt, flat (some trails in the forest might be sandy)

The charms of the Serocki Forests and the Zegrze Reservoir (duration about 5-6 hours with meals)
During this trip we will take you to the picturesque surroundings of  Zegrze Reservoir and Serocki Forests, along the banks of river Narew. The trail abounds with numerous natural attractions, such as: the Szaniawski Gorge Reserve, Jadwisin Reserve, Zegrze Reserve – protected by the NATURA 2000 program. There are also numerous historical and touristic attractions on the way: in Jadwisin – the Palace of the Radziwił family and the Park Complex, market square and the public beach in Serock, the Chamber of Remembrance and Fishing Traditions and many other. Our route is a must-see bicycle spot at the Zegrze Reservoir!
After the tour, we propose to rest and have a meal in an extremely cosy resort on the banks of the Narew river. The Mila Zegrzynek club provides excellent cuisine, service and friendly atmosphere. There is a small harbour and a playground for children. The restaurant is decorated with maritime ornaments and has comfortable and cosy interiors to offer.
Route difficulty: easy / medium
Distance around 30 km
Travel time around 3-4 hours (with breaks)
Road surface: forest and field paths, gravel and asphalt, flat.
The treasures of Podlasie (duration: 1 day + 1 or 2 nights)
This trip leads along Green Velo trails, through the incredibly interesting both naturally and culturally area of eastern Poland. The participants will cycle through the virgin Bialowieża Forest. They will see the Russian Empire monuments and visit the bison reserve. What will make this trip even more pleasant is delicious local cuisine and comfortable accommodation in a unique guest house.
Route difficulty: easy
Distance around 50 km
Travel time around 5-6 hours (with breaks)
Road surface: forest and field paths, gravel and asphalt, flat
Kashubia – a fairy-tale land and a bicycle paradise (duration: 1 day + 2 nights)
A trip to Kashubia is like travelling to an exotic country – a separate culture, original language, unique traditions and rich folklore. On your bicycles we will take you to a fairy-tale, vibrant and breath-taking world. Although sometimes you will get a bit tired of cycling through the post-glacial terrain, the picturesque landscape of Kashubian lakes, forests and hills will reward the tiring trail.
 Going through picturesque landscapes of the Wdzydze Landscape Park will definitely be an unforgettable company event. We will take you around so-called Kashubian Sea, extremely interesting in terms of nature and culture area of Poland. During the way we will admire oldest in Poland, open-air Kashubian museum, where we will have a chance to learn more about the colourful Kashubian tradition and culture: language, clothes, architecture and crafts.
Route difficulty: medium

Distance about 50 km
Travel time: all day (about 6-7 hours with breaks) forest, gravel, asphalt paths with slight elevations
THE GALLERY FROM OUR EVENTS
THEY CYCLED WITH US:
KRĘCILI Z NAMI: