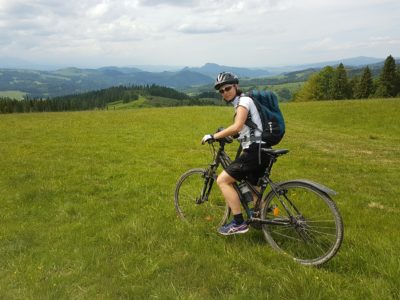 Hi! My name is Agnieszka and I am the organizer of your dream bicycle expeditions! I have always loved travelling and spending time actively. I am sure that sport and exploring the world shape and temper the character and allow people to broaden their horizons. The creativity and resourcefulness, so much valued in modern world are fruit of one's life experience which you might greatly broaden while travelling.
I took part in numerous cycling expeditions in Poland and Europe. I love mountains – long hiking trips and white winter madness. I backpacked the whole Camino de Santiago trail and to be honest if I had an opportunity I would repeat each one of my expeditions one more time.
Travelling gave me an opportunity to see many interesting places – I got to know their history and local traditions and at the same time I could take care of my physical fitness.
I would like to invite you to take part in cycling expeditions that gives incredible opportunity to travel both actively and in a smart way! Riding a bike, you see more than while travelling by car or hiking – it is faster than hiking so you can see more being at the same time close to nature and surrounding environment. What is more you can share this unique time with your relatives and close friends or… you can just make new friends on the way as well! The Rowelove expeditions are about exploring the beautiful, but less known corners of Poland. We visit people with passion, stay in remarkable and unique accommodations and taste delicacies of local cuisine. Just give yourself a chance to check it out by yourself!
The expeditions are conducted by myself and other experienced and qualified guides. We will take care about you and provide you with service of the highest standard. Transport and technical support during the trip are guaranteed by experienced companies specializing in this type of events.
Join us! See you on the trail!
Our group leaders and guides:

Agnieszka
The tourist and traveller out of love – the clerk by profession. She decided to transform her hobby into a dream job – to move around and travel with people, who love cycling just like her! She infects others with her passion and promotes spending time actively. This rule does not exclude her family – her 2-year old daughter and husband. She has finished the qualified tourism course and has  years of experience in running bicycle trips for larger and smaller groups.
Kuba
He began his cycling adventure with an idea to ride from Warsaw to … Barcelona. He managed to realize this dream in 2014. Since then, he has been able to visit 25 countries on a bicycle, including Belarus, Romania, Serbia and Scotland. With his passion for tourism he has infected his friends who took part in trips organized by Kuba and from 2018 also as part of cooperation with our Office. Kuba is a qualified cycling tourist guide. For several years he ran the only tandem rental point in Warsaw under the name "Byle do Przodu" ("Just Forward…"). In his free time he  enjoys playing football.
Marek
Bicycle educator, bicycle tourism instructor, licensed bicycle guide in the Kampinos National Park. He has been cycling for over a quarter of a century, not only for tourism, but also (or rather: mainly) for transport. He tries to work for the development of bicycle traffic in Warsaw by cooperating with some non-governmental organizations. Trained as a teacher and translator, he conducts cycling classes and workshops for students of Warsaw schools, as well as for employees of companies. For several years, he has been organizing trips for relatives and friends, also profiled (e.g. conducted in a foreign language).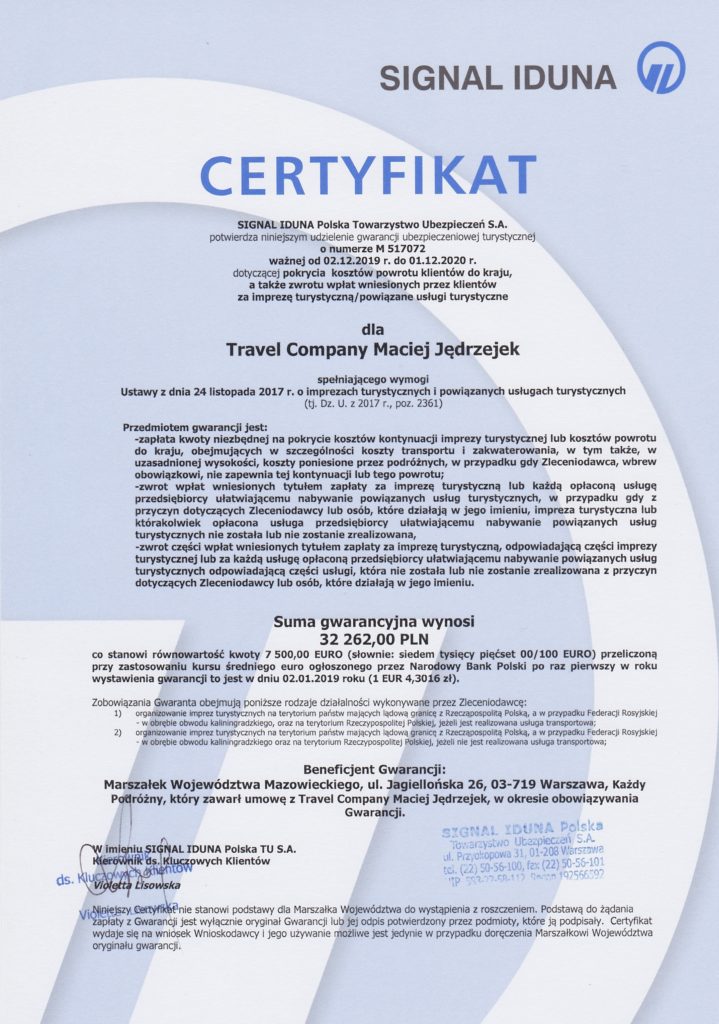 Our office has a tour operator license no. 2287 issued by the Marshal of the Ma-zowieckie Voivodeship and current insurance guarantee required by the Act on tourist services of August 29, 1997 (number of insurance guarantee: M 517072, amount of cover: 32.262,00 PLN).
The guarantor is SIGNAL IDUNA POLSKA TOWARZYSTWO UBEZPIECZEŃ SPÓŁKA AKCYJNA, Przyokopowa 31, 01-208 Warsaw, NIP 5832758112, REGON 19256659200000, registered in Na-tional Court Register kept by the District Court for the city of Warsaw in Warsaw, XII Commercial Department of the National Court Register under KRS number 0000042793.