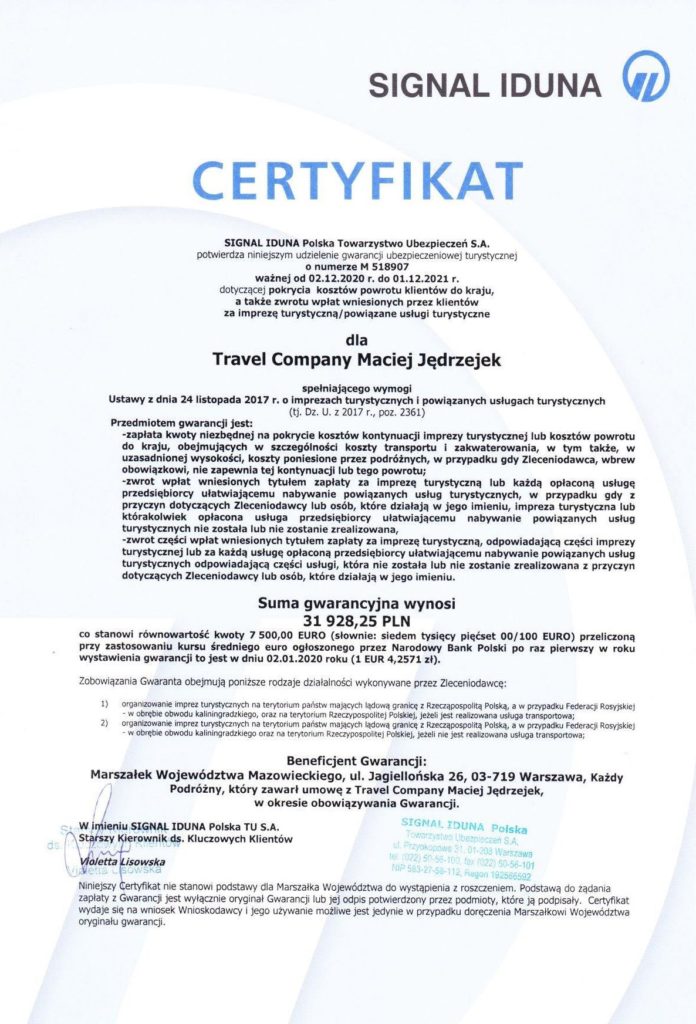 Our office has a tour operator license no. 2287 issued by the Marshal of the Ma-zowieckie Voivodeship and current insurance guarantee required by the Act on tourist services of August 29, 1997 (number of insurance guarantee: M 518907, amount of cover: 31.928,25 PLN).
The guarantor is SIGNAL IDUNA POLSKA TOWARZYSTWO UBEZPIECZEŃ SPÓŁKA AKCYJNA, Przyokopowa 31, 01-208 Warsaw, NIP 5832758112, REGON 19256659200000, registered in Na-tional Court Register kept by the District Court for the city of Warsaw in Warsaw, XII Commer-cial Department of the National Court Register under KRS number 0000042793.
Your safety during the expedition is crucial to us! All participants of the trip have insurance included. Moreover, we always present a couple of basic rules at the beginning of every trip to make sure everyone is well prepared and follow the basic safety rules while cycling – this guar-antees that the journey will be pleasant and satisfying!
Travel insurance
All participants of the expedition have insurance provided. The amounts of insurance are as follows:
Assistance in Poland – up to PLN 2 000
Accident insurance – up to PLN 60 000
Civil liability insurance – up to PLN 600 000
Equipment insurance – up to PLN 2 500 in case of the theft of well secured bike (during the Expeditions lasting longer than at least two days, does not concern the rented bikes).
The insurance provider is Allianz. If you wish to have any additional insurance provided, e.g. travel cancellation insurance, please let us know during the booking process by filling in the proper field in the application form.
Participants
All participants are responsible for their physical fitness and their ability to reach the destina-tion of the selected expedition. If you are unsure of your physical readiness the best idea is to contact your doctor. Should you have any troubles with your health or you will feel to weak to continue cycling on the way there is always a possibility to continue the trip in the technical car securing the expedition.
The person responsible for the safety of the whole group, the schedule and the pace of the trip is always a guide. All issues making your cycling difficult or impossible should be reported to the guide directly (e.g. sickness or failure of the bike).
Bicycle road rules during the expedition
The expeditions are designed to avoid public roads and heavy traffic, however sometimes it can not be eliminated. Most of the time we will cycle on dirt, gravel or forest paths, hiking trails or less frequented asphalt roads. Nevertheless, while approaching cities we will usually use roads with car traffic. While using public roads we are obliged to follow the Road Code taking into account all the safety rules and guidelines specified by the guide at the beginning of the trip.